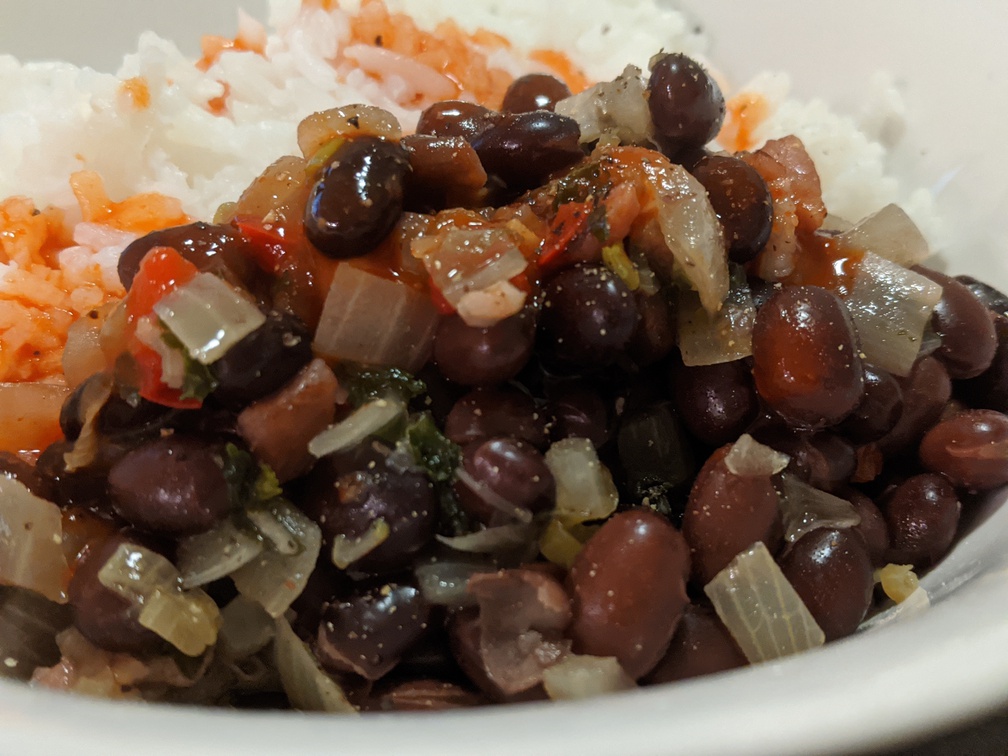 I normally have small cans of black beans on hand if I want to throw some into a quick chilli, but until now I hadn't made a meal out of them. This recipe hit the spot.
The visual and added flavour of the scallion, green herbs, and capsicum make this dish much less 'boring' than it sounds.
*A note for the Australian localisation of this recipe: the original recipe calls for using the canning liquid in the beans. Edgell Black Beans have minimal liquid, compared to Annalisa which has a lot. Depending on your brand, add more or less water as desired. If they are too liquidy, the 'sauce' will still be tasty and the rice will soak it up well.
Ingredients
1 x 400g canned black beans, with liquid*
1/2 small onion
2 green onions
2 garlic cloves
20g red capsicum
2tsp olive oil
cumin, to taste
fresh green herbs (coriander or parsley)
dried oregano, to taste
1 tsp red wine vinegar
white rice, to serve
hot sauce, to serve
Directions
Finely chop onion, garlic, scallions, capsicum, and green herbs.
Add oil to a medium-sized pot on medium heat.
Add vegetables to the pot and sauté until soft, about 3 minutes.
Add beans, bay leaf, cumin, oregano, red wine vinegar, salt and black pepper. Add up to 1/2 cup of water, so that the pot can be brought to a boil.
Lower heat and cover, simmer about 15 minutes stirring occasionally (adjust water as needed).
Taste for salt and serve with rice and slather in hot sauce, to taste.